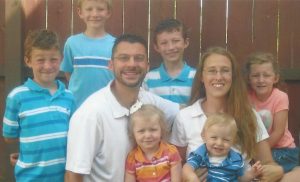 Pastor Timothy Board grew up in northwest Indiana as the second of four children born to Kenneth and Sue Board. After being saved by the grace of God through faith in Jesus Christ at a young age, the Lord called him into the ministry in his late teens. In January 2002, he and his wife, Lori, were married and established their home in Wisconsin where he trained for the work of ministry at Berean Bible Institute.
After graduating in May 2005 with a diploma of Advanced Biblical Studies in Pastoral Ministry, he was ordained as a pastor through his home assembly, Faith Bible Church of Steger, IL, where Pastor Ricky Kurth, editor of The Berean Searchlight, has served since the late 70's. In May 2009, he received the Bachelor's Degree of Biblical Studies from St. Louis Theological Seminary and has studied in the MDiv-Pastoral Ministry program through Liberty University Online. Pastor Board was also ordained in the spring of 2012 through the Grace Gospel Fellowship and has been serving on the national board of directors of Things To Come Mission-USA since September 2013.  Currently, he is studying in the Online Graduate Studies Program of Grace Bible College in pursuit of a Master of Arts in Ministry.
He has been involved in the ministries of Northern Grace Youth Camp, speaking at various Bible conferences around the country, classical education at Community Christian School-Baraboo, and pastorates near the cities of Denver (CO), Dayton (OH), D.C. (VA), and now the Dells (WI). Pastor Board has a passion for the expository preaching of the Word of God in an intensely practical fashion.  This also includes a heart for Christian apologetics, Biblical worldview development, and family discipleship with fathers at the helm who will lead their homes with courage by embracing a multi-generational vision of faithfulness for the glory of God.
Pastor Board considers it a tremendous honor to be a part of the Adams-Friendship community and the historic Friendship Congregational Bible Church. Every generation of believers in Christ must know what they believe, why they believe it, but also how to defend the Christian faith against the skeptical questions of the day in the context of a secular culture that is increasingly hostile to the truth claims of Biblical Christianity. This is what it means to have an intelligent understanding of the times and a comprehensive Biblical worldview.
Pastor Board enjoys walking with his family, treasure hunting at used book sales, and going on family adventure trips to Wisconsin's many state parks, musuems, and historic sites. The Boards are committed home educators and have been blessed with six healthy children, Timothy Ray, Luke Robert, Elijah Kenneth, Bethany Carol Joy, Grace SueAnn, and Noah Christoper. They are thankful for the opportunity to minister the Word of God and reach out together into our community and beyond with God's grace. Soli Deo Gloria!
"Telling to the generation to come the praises of the LORD,
And His strength and His wonderful works that He has done."
Psalm 78:4 NKJV